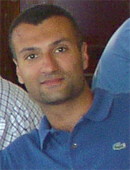 Ing. Andrea Valentini



Born on August 19, 1971 in Bologna, Italy.



He received the Laurea degree cum laude in Environmental Engineering from the University of Bologna in 2000 with the thesis "Implementation of a program for the computer simulation of anossia phenomena in Comacchio Lagoon" in the field of the Modeling and Control of Environmental Systems.



From 2001 he is a Ph.D. student in Automatic Control and Operations Research at the Department of Electronics, Computer Science and Systems of the University of Bologna.



In 2001 he successfully attended a post-degree specialization course in Dynamic System Identification, organized from the University of Bologna (Italy) and the Katholieke Universiteit of Leuven (Belgium), in which the most advanced techniques in the field of the identification of dynamic systems had been analized and studied .